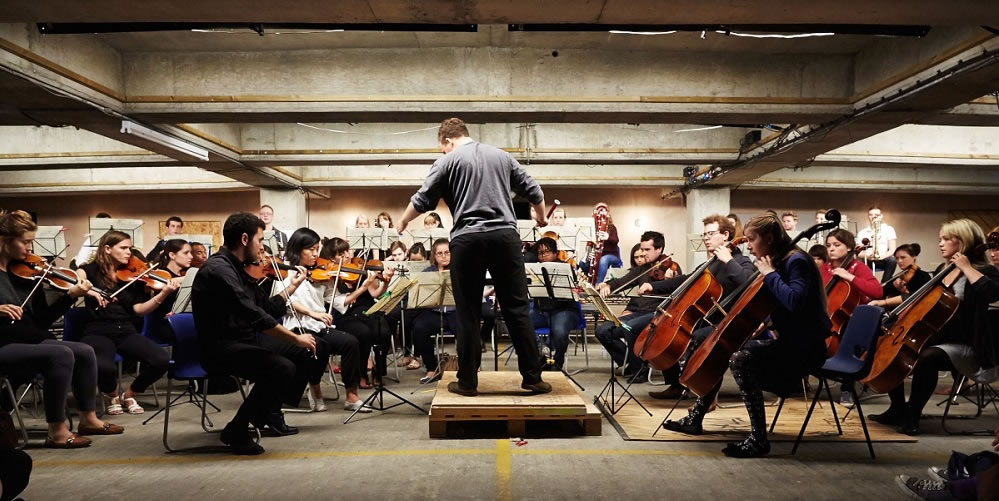 Classical music fans are being urged not to miss a unique event this Saturday that will transform the multi-storey car park at Beverley's Flemingate centre into a performance space with bar.
Live classical music will bring the third floor of the multi-storey car park to life as a 60-piece orchestra performs Schumann's captivating Second Symphony in full.
The Multi-Story Orchestra, conducted by Christopher Stark, presents extraordinary performances in unexpected settings. From car parks to schools and festivals, the orchestra creates amazing live classical music experiences performed by incredible musicians.
Flemingate has been chosen for the performance to take advantage of the car park's acoustics and elevated position overlooking Beverley.
Tickets are selling fast for the unique experience, which starts at 5pm this Saturday, September 8. Audience members are free to find out about the music and meet members of the orchestra, before the performance begins.
A bar, provided by local community group Friends of Molescroft School (FOMS), will be serving wines, beers, Prosecco and soft drinks. FOMS organise numerous social events throughout the year, raising funds for pupils at Molescroft Primary School in Beverley.
Flemingate Marketing and Events Manager Jo Bridgeman said: "This is an event not to be missed! It's a first for Beverley and such a rare opportunity to see a full-size orchestra playing in such an unusual setting.
"We're urging people to secure their tickets to avoid disappointment."
The magical event is suitable for ages eight-plus. Tickets cost £6 for adults and £5 for children are available in person from Beverley Library or from the Bridlington Spa Box Office – phone 01262 678258 or visit www.bridspa.com