We like to think that every Saturday is super at Flemingate, but the team at The Entertainer have taken things a step further, by introducing a series of Super Saturday events to celebrate the release of film fin-omenon, Finding Dory.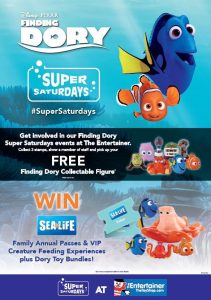 On Saturday 30th July and Saturday 6th August 2016, children will be able to play with Chat and Change Hank, race the swiggle fish and even learn to speak whale with Dory, as well as searching for hidden Dory toys around the centre as part of our colouring competition.
And that's not all.
Following on from two hugely popular visits from the My Little Pony Friendship tour bus to The Entertainer stores around the country earlier this month, they're launching a new competition to win a school visit from the pinkest double-decker in town.
Winners and their classmates will get the chance to explore Equestria, the magical world of My Little Pony, play with the latest toys, watch episodes of the TV show and enjoy a series of unique My Little Pony experiences, from makeovers to Pony selfies.
Simply pop into The Entertainer or head to http://www.thetoyshop.com/mlp-competition before Wednesday 24th August 2016 to enter and keep an eye out on our social media feeds where we'll be announcing the winner.