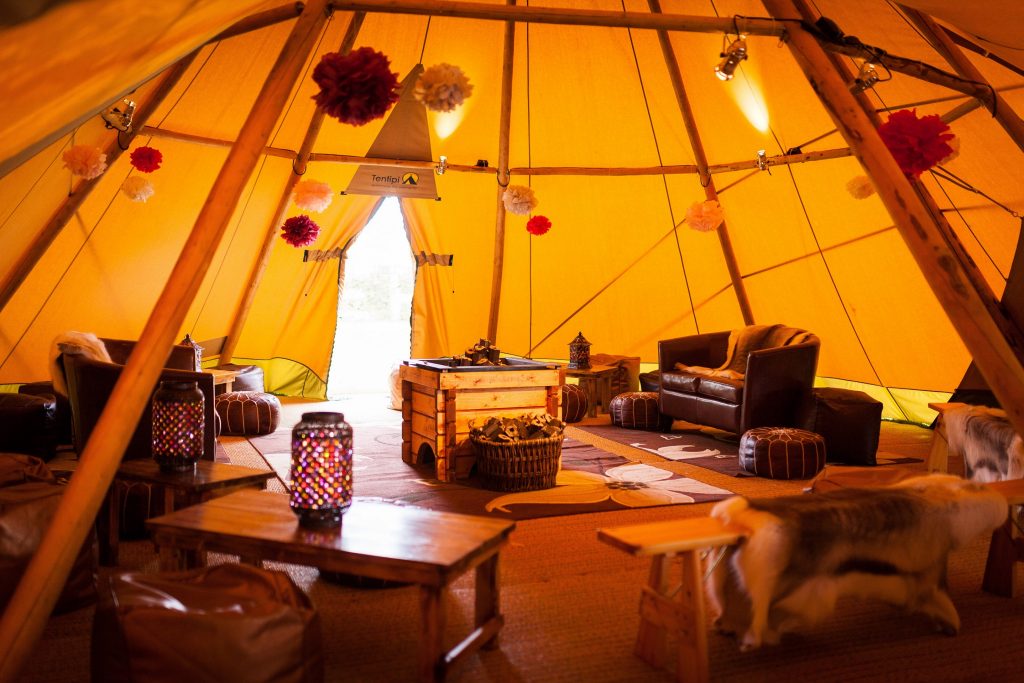 A tipi bar complete with a roaring open fire, cosy furs and twinkling lights is coming to Beverley's Flemingate centre this Christmas.
Family-run events company Boutipi is launching its Nordic-themed "Bartipi" to coincide with Beverley's Christmas lights switch-on, on Thursday, November 23, and it will be open throughout the following weekend.
The pop-up venue will then return to Flemingate on Thursday, December 7, for the run-up to Christmas.
Designed and made in Sweden, Bartipi will feature a large open fire and will be decorated with fairy lights and festive floral displays, with a homely mix of relaxed seating, low-level pouffes and tables. The large tent can hold more than 120 people and will have additional heating for an extra cosy atmosphere.
Sisters and company directors Michelle Bussey and Sam Robinson launched Boutipi in 2013 when Michelle was looking for unique venue ideas for her wedding. With the help of parents Robert and Carole Booty, the Beverley-based company was born and now has seven tipis and two kung tents (smaller chill-out tipis) which are used as wedding and event venues.
Michelle said: "The whole family lives in Beverley and our business is based in the town so we couldn't be happier about launching Bartipi at Flemingate.
"We saw the potential of Flemingate to host a venue like this over a year ago while we were developing the Bartipi concept. We're really excited that we're now going ahead and we think the green area of public space within the centre is absolutely ideal for it.
"When we announced on Facebook we were coming to Flemingate the response was absolutely overwhelming – people love the concept!
"The tipi will be so warm and welcoming, with fairy lights, an open fire and a fantastic atmosphere, so it will be the perfect place to unwind after a busy day of Christmas shopping in Beverley."
Sam added: "Our tipi bar will be the only one in the area – the nearest is in York – and we know this type of venue is incredibly popular, especially over Christmas.
"We're offering mulled wine, hot drinks, local real ales, wines and spirits, so there will be plenty of choice to enjoy the season of goodwill.
"We're still finalising details, but Bartipi will also host themed events while at Flemingate. So far, we have a comedy evening planned and a night with a hypnotist, plus we are organising some open mic nights. We're also available for private midweek bookings."
Graham Tait, Flemingate Centre Manager, said: "We're very excited about Boutipi joining Flemingate in the run-up to Christmas. It's a very special venue and one that is already generating a huge amount of interest from local people. We believe it will also be a big draw for visitors.
"We're proud of our track record of bringing new retailers, restaurants, cafés and leisure opportunities to Beverley, as well as our ever-growing schedule of events. Bartipi is another great example of Flemingate hosting a new and very different attraction for the town.
"It's something completely new for Beverley and East Yorkshire as a whole and really adds to the appeal of our wonderful town in the busy festive period. It will make visiting Flemingate and Beverley an even more magical experience this Christmas!"
Boutipi is a real family affair with Michelle and Sam's husbands, Richard and Ellis, also involved in the business. Ten further members of staff make up the Boutipi team.
Sam continued: "We'll be announcing more details on our Bartipi Facebook page over coming weeks and we're really looking forward to a very special festive time at Flemingate this Christmas."
Bartipi is launching at Flemingate on Thursday, November 23, to Sunday, November 26, then returning on Thursday, December 7, until Christmas Eve. Specific opening dates and times will be announced in due course.
For more details about Boutipi visit www.boutipi.co.uk or follow the brand on social media @boutipi and @bartipi.
Owned and developed by Hull-based regeneration company Wykeland Group, the fast-growing Flemingate centre has a host of major high street retailers, such as Debenhams, H&M and River Island, complemented by a range of high-quality independents.
Flemingate's leisure line-up includes Parkway cinema and theatre, Firepit Smokehouse and Sports Bar, Buca di Pizza, Gourmet Burger Kitchen, Riva Lounge, Deli No.1 and Anytime Fitness.