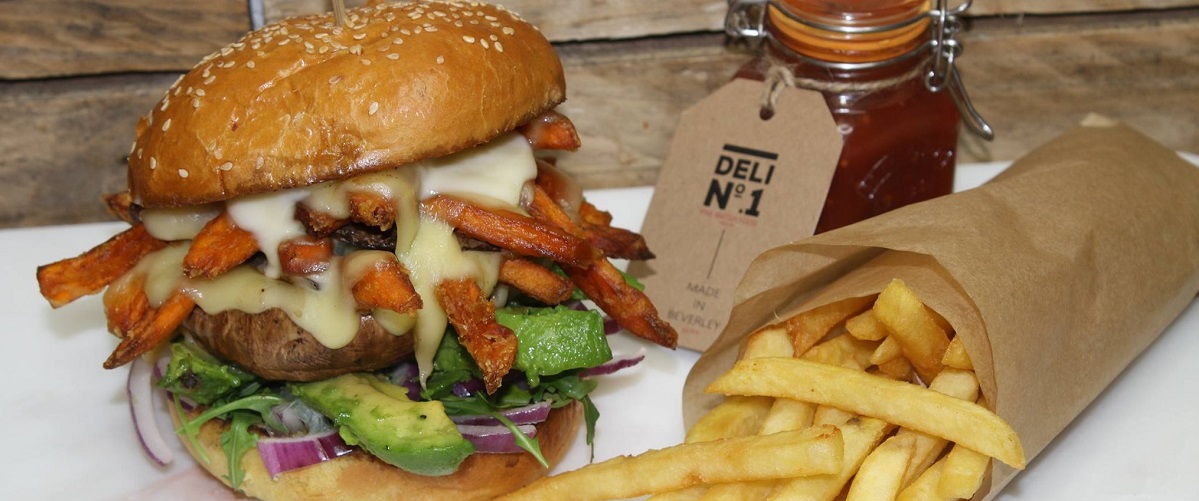 Deli No.1 is extending its opening hours and introducing a delivery service for the launch of its exciting new burger range.
A launch night on Friday, April 27, will showcase the new burger and cocktail menu, which includes The Korean, a British steak patty glazed in sweet and spicy Korean sauce and topped with Kimchi, garlic mayo and cheese; the Italian Avocado Burger – chicken topped with pesto, mozzarella, sundried tomato and avocado; and The Indian – a chicken burger, vegetable and spinach pakora and onion bhaji, topped with Korma sauce.
Dan Moxon, Director of Deli No.1, said: "We're very excited about the launch of our new menu, delivery service and later opening times.
"Our customers were crying out for our high-quality burgers and kept asking us to offer a takeaway service in the evening.
"Beverley has a great range of takeaways but we noticed there was an opportunity to add a quality range of burgers, which are different to the norm, to eat in or order as a takeaway.
"Our new menu offers some really tasty options – from a Mexican Burger to a Strawberry and Feta Salad to a Hoisin Duck Wrap – we're delivering restaurant-quality food direct to people's homes.
"We've also updated our menu with a great range of cocktails and a fantastic brunch selection. We even offer a glass of Prosecco to go with it – perfect if you're going to Beverley races!"
The menu also includes a range of classic burgers and a good selection of vegetarian offerings, such as the Falafel Burger topped with traditional spiced Moroccan relish, feta cheese, cress, red onion, pickle and sliced courgette.
Diners with a hearty appetite can attempt the whopping 3-in-1 American Burger. This ultimate burger consists of three 6oz steak patties nestled between melting cheese, bacon, mac'n'cheese bites, salad, finished off with American mustard and buffalo sauce.
Cocktails include a Gin Bramble – a refreshing blend of gin, lemon and blackberry – and the classic Cosmopolitan, featuring vodka, cranberries, Persian limes and a squeeze of orange.
A great range of salad and side order options, which are also available for home delivery, complete the menu.
Graham Tait, Flemingate Centre Manager, said: "It's great news that Deli No.1 are responding to customer demand by launching an exciting new menu and delivery service.
"Flemingate's lively evening scene is incredibly popular and it's wonderful that Deli No.1 is now becoming part of this, and giving diners even more tasty choices."
The exciting new range of burgers can be delivered to your door using the Just Eat delivery service, Deli No.1's Facebook page or by telephone on 01482 222229.
Deli No.1 will open from 9am-9pm Monday to Saturday. 10am-9pm Sunday. The delivery service is available from 4pm-9pm, seven days a week.
For more details and to view the new menu follow Deli No.1 on Facebook: www.facebook.com/delino1flemingate
To order via the Just Eat delivery service, go to www.just-eat.co.uk/ from Friday, April 27.