Fun & Fitness : Inflata Nation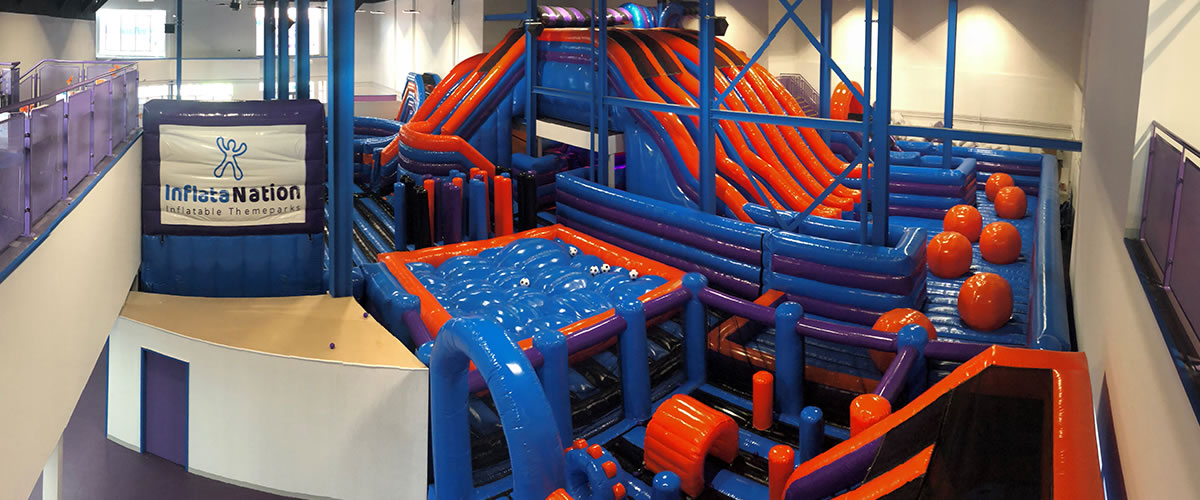 *IMPORTANT UPDATES TO OPENING TIMES*
Please see our UPDATES PAGE for any changes to opening times in light of the current situation with Coronavirus (COVID-19)
The UK's FIRST double decker inflatable theme park is here at Flemingate Centre, Beverley, with bigger slides, bigger drops and brand new awesome activities too that will make you bounce like never before!!
Inflata Nation is extra special and totally different to any other, the dual-level arena gives the impression of floating above the giant inflatables. It's packed with even more fun and activities for all to enjoy, including a huge ball pool, the UK's biggest filled with 200,000 balls!
Inflata Nation offers fun birthday packages, group events, corporate team building days or tailor made packages to suit your needs, with delicious food available from Wellington Pizza Pub.
At Inflata Nation's Inflatable theme park there is truly something for everyone. We strongly recommend booking in advance to avoid disappointment!
Opening Times
TERM TIME
Monday-Friday 12pm-9pm (last session 8pm)
Saturday 9am-9pm (last session 8pm)
Sunday 10am-8pm (last session 7pm)
Specific Sessions (term time)
Inflata Tots (Age 4 and under)
Monday, Wednesday and Friday 12-1pm
Autism/disability Friendly Session
Thursday 12-1pm
Saturday 9-10am
Adult only session (16+)
Friday 7-8pm and 8-9pm
SCHOOL HOLIDAYS
Monday-Friday 10am-9pm (last session 8pm)
Saturday 9am-9pm (last session 8pm)
Sunday 10am-8pm (last session 7pm)
Specific Sessions (school holidays)
Inflata Tots (Age 4 and under)
Monday, Wednesday and Friday 10-11am
Autism/disability Friendly Session
Thursday 10-11am
Saturday 9-10am
Adult only session (16+)
Friday 7-8pm and 8-9pm
We've got it all at flemingate