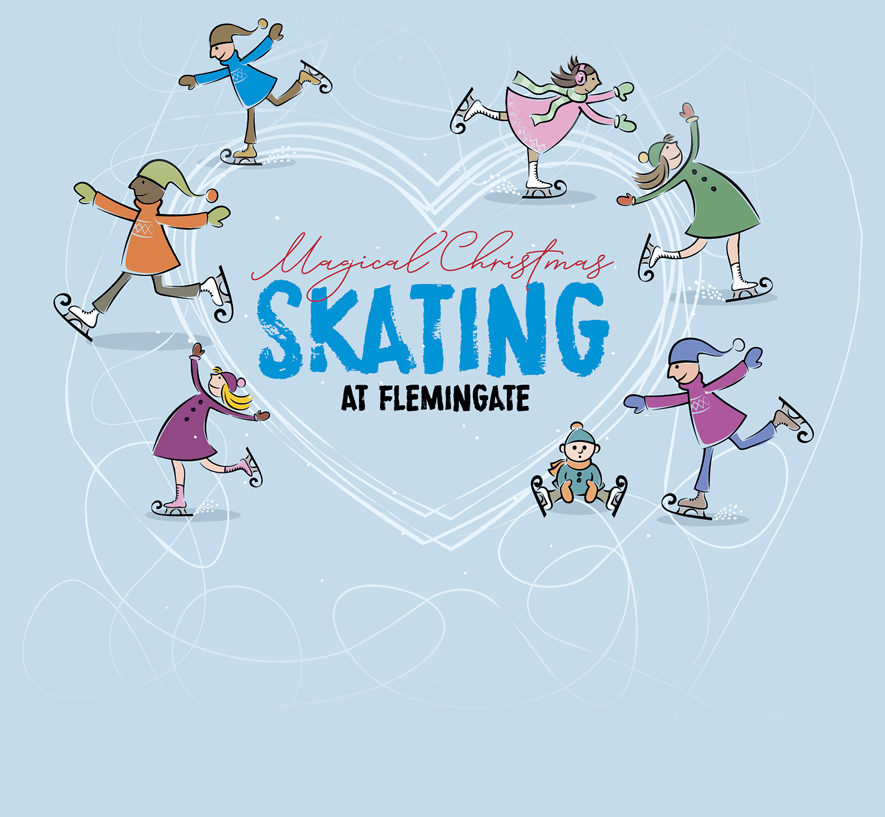 Festive fun for all the family
Saturday 30th November – Sunday 5th January
Only £5 per person
Our eco-friendly Christmas skating rink is the perfect way to get into the Christmas spirit! With our push along whale aids to help the little ones around, it's fun for all the family. The rink is synthetic which means it's kinder to the environment than ice.
Sessions last for 45 minutes and are just £5 per person including skate hire.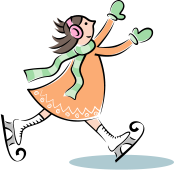 Skate and Bounce – only £12
Fancy a fun filled day of action?
Why not opt for our great value Skate and Bounce tickets and enjoy a whirl on the ice and a session at Inflata Nation on the same day.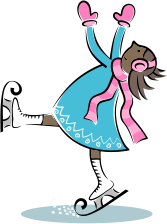 Opening Times
Weekends
Every Saturday 10am -6pm  and Sunday 11am-5pm
(opening at 10am on Sunday 8th December)
Monday – Friday (term time)
2nd – 20th December
Monday- Wednesday 1pm-6pm Monday – Friday (school holidays)
Monday 23rd December – 10am-7pm
Christmas Eve – 10am-4pm
Christmas Day- CLOSED
Boxing Day – 10am-4pm
Friday 27th December – 10am-6pm
Monday 30th December – 10am-6pm
New Year's Eve – 10am-4pm
New Year's Day – CLOSED
Thursday 2nd January – 10am-5pm
Friday 3rd January – 10am-5pm
Frequently Asked Questions
How old do children have to be to skate?
The smallest skate size we have is an infant 8 (limited numbers of the really tiny sizes). Children must be able to walk confidently and no carrying of children on ice can occur.  We have super cute whale skating aids available on a first come first served basis to support little ones on the ice. Under 8s must be accompanied at all times by adult (if they don't want to skate then they can wear blue covers over their shoes).  Under 16's must be accompanied at the rink but the adult does not have to go on.
Can children skate without an adult?
Under 8's must be accompanied by an adult on the rink at all times. Adults can go on wearing blue shoe covers if they don't want to skate. Children under the age of 16 must be accompanied at the rink side by an adult but they do not have to go on the rink. 
What should we wear?
As it's an outdoor rink we recommend you wrap up warm and wear something comfortable. Layers are good as you can get warm when skating.
Should we wear gloves?
Gloves are a good idea in case you fall, as they will protect you skin.
Do we need our own skates?
No, skate hire is included in the ticket price. We have a range of sizes available (infant size 25 to adult 47). If you own your own skates, then you can wear them but we are not responsible for them. 
I would like to book a large group, is this possible?
Yes, of course.  The rink can hold up to 20 people.  If you would like to book for more than 6 people, then please just get in touch and we will sort this out for you.
What's the rink made of?
Our rink is synthetic but looks just like ice and is sprayed regularly to ensure a smooth surface.
Should I book in advance?
Yes definitely as we only have capacity for 20 skaters at a time. You should therefore book in advance to avoid disappointment.
Can I skate and bounce on different days with a joint ticket?
No, the Skate and Bounce tickets are valid on the same day and cannot be used on separate days.
What time should I arrive?
We recommend you arrive 15 minutes before you are due to skate. This will give you plenty of time to get the right sized skates, ready to take to the ice. 
Are wheelchairs permitted on the rink?
Yes, wheelchairs can go onto the rink.  Please be aware that there is a lip when entering the rink so the chair would have to be lifted over this to get onto the rink.  
Can I speak to anyone about the Skating Rink?
Yes, please give the Flemingate office a ring on 01482 867024 or contact us via the enquiry link on the booking page.